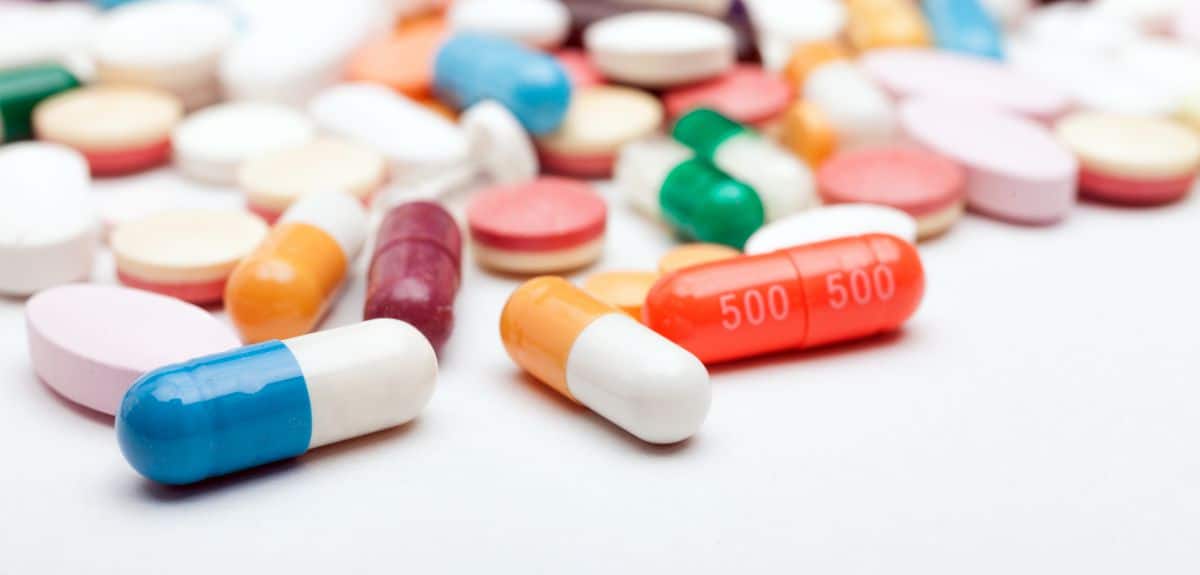 Masitinib, AB Science main compound, is a selective tyrosine kinase inhibitor which is currently developed in three therapeutic areas: neurology, inflammatory diseases and oncology.
As of today, masitinib is mainly developed in the following indications: amyotrophic lateral sclerosis, multiple sclerosis, Alzheimer disease, mastocytosis, severe asthma, prostate cancer and pancreatic cancer. Masitinib pipeline is well advanced with promising phase 3 data in Amyotrophic Lateral Sclerosis (ALS), indolent severe systemic mastocytosis and severe asthma.
To date, more than 6,000 patients have been enrolled in masitinib studies, with more than 4,000 patients exposed to masitinib.
Masitinib is an orally administered tyrosine kinase inhibitor. It modulates the activity of mast cells and macrophages, important cells for immunity, through targeting a limited number of kinases without inhibiting, at therapeutic doses, kinases associated with known toxicities.
Based on its unique mechanism of action, masitinib can be developed in a large number of conditions in oncology, in inflammatory diseases, and in certain diseases of the central nervous system. In oncology, masitinib has the potential to improve survival when administered alone or in combination with chemotherapy via targeting of specific gene mutations or because of its immunotherapeutic properties. Masitinib can exert a neuroprotective effect in some central nervous system diseases and reduce symptoms in some chronic inflammatory disorders through its activity on mast cells and microglia, with subsequent modulation of inflammatory and neurodegenerative processes.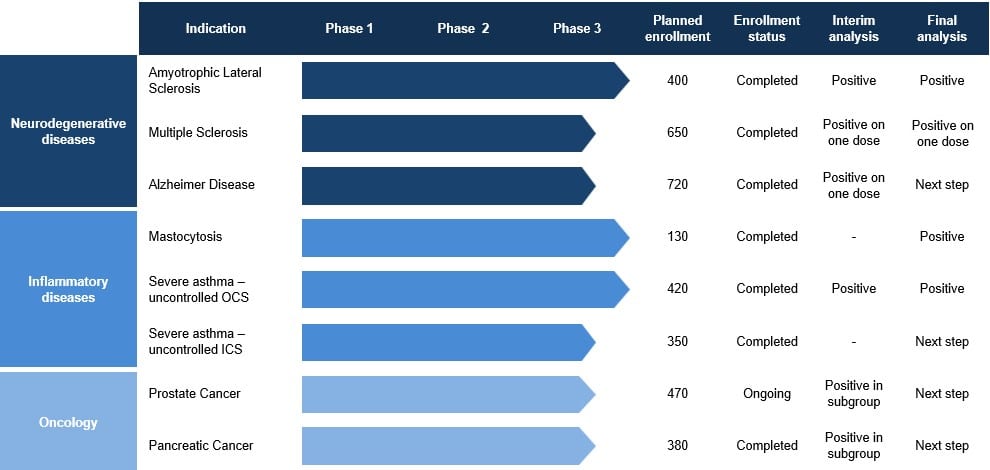 Masitinib (AB1010), a potent and selective tyrosine kinase inhibitor targeting KIT.
Dubreuil P, Letard S, Ciufolini M, Gros L, Humbert M, Castéran N, Borge L, Hajem B, Lermet A, Sippl W, Voisset E, Arock M, Auclair C, Leventhal PS, Mansfield CD, Moussy A, Hermine O. PLoS One. 2009 Sep 30;4(9):e7258. doi: 10.1371/journal.pone.0007258.
Phase 1 dose-escalation study of oral tyrosine kinase inhibitor masitinib in advanced and/or metastatic solid cancers.
Soria JC, Massard C, Magné N, Bader T, Mansfield CD, Blay JY, Bui BN, Moussy A, Hermine O, Armand JP.
Eur J Cancer. 2009 Sep;45(13):2333-41. doi: 10.1016/j.ejca.2009.05.010. Epub 2009 Jun 21.
Masitinib as a chemosensitizer of canine tumor cell lines: a proof of concept study.
Thamm DH, Rose B, Kow K, Humbert M, Mansfield CD, Moussy A, Hermine O, Dubreuil P. Vet J. 2012 Jan;191(1):131-4. doi: 10.1016/j.tvjl.2011.01.001. Epub 2011 Feb 17.