About Amyotrophic Lateral Sclerosis
Amyotrophic lateral sclerosis (ALS) is a rare and life-threatening neurodegenerative disease characterized by progressive muscular paralysis reflecting degeneration of motor neurons. ALS is associated with substantial morbidity and severely impacts day-to-day functioning. The disease is relentlessly progressive.
There is still a high need for new treatments in ALS. In Europe, there has been no drug registered since riluzole 32 years ago.
Masitinib positioning in Amyotrophic Lateral Sclerosis
Masitinib is currently the only tyrosine kinase inhibitor in late-stage development for ALS. Masitinib distinguishes itself from other ALS developmental drugs by exerting neuroprotection in both central and peripheral nervous systems.
Masitinib appears exceptional among other ALS-developmental drugs, exerting neuroprotection in both central nervous system and peripheral nervous system via selective kinase inhibition that modulates the functionality of different cells implicated in ALS pathogenesis.
In recognition of the critical need for new treatments, masitinib received orphan drug designation for ALS from both the European Medicine Agency (EMA) and the U.S. Food and Drug Administration (FDA).
Number of patients targeted by masitinib in Amyotrophic Lateral Sclerosis
The number of patients targeted by masitinib amounts to 50,000 in Europe and in the US.
Positive Phase 2B/3 results of masitinib in Amyotrophic Lateral Sclerosis
AB Science reported positive Phase 2B/3 results with masitinib in ALS. In this study, masitinib in combination with riluzole demonstrated a significant delay (-27%) in disease progression in ALS patients identified as normal progressors, which was the population for primary analysis (i.e. patients with a baseline ALSFRS-R progression of <1.1 point/month).
Primary analysis – Change in ALSFRS score from baseline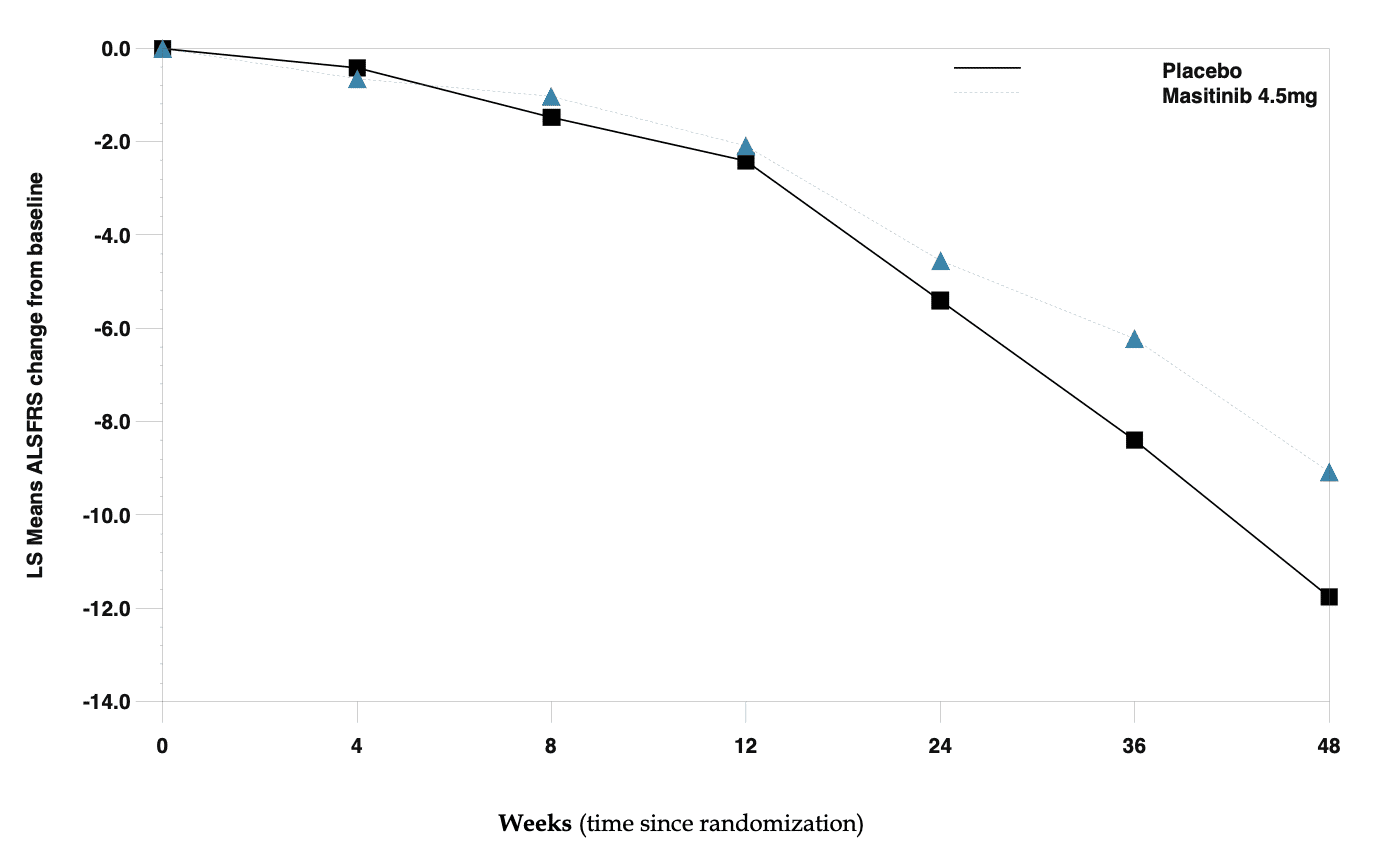 The results of the study have been published in the journal Amyotrophic Lateral Sclerosis and Frontotemporal Degeneration (ALSFD) and represent the first positive phase 3 trial of a tyrosine kinase inhibitor in ALS.
Confirmatory Phase 3 study with masitinib in Amyotrophic Lateral Sclerosis
Following this first phase 3 study, AB Science is initiating a confirmatory phase 3 study, with an optimized design that includes enrolment of patients at an earlier stage of their disease.